In The News! - Fijian Agriculture President Drinks Kava at Root of Happiness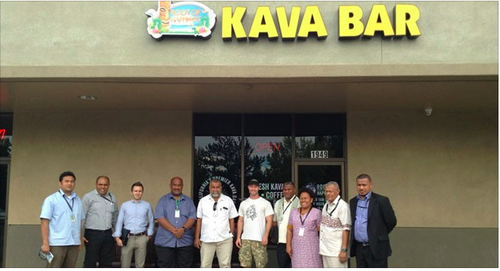 Not to brag or anything but every time the Fijian Government comes to California, they drive hundreds of miles to come to the Root of Happiness to drink Kava.  No big deal.
The Acting Permanent Secretary for Agriculture -Uraia Waibuta along with his delegation of other Fijian ministers and PHAMA came to visit our bar.
"Mr Waibuta said that one of their highlights was the visit to a modernized Kava Bar in Sacramento called the 'Root of Happiness Kava Bar'.
"This is Northern California's first Kava bar which opened its doors in March 2013 and has been frequented by the diverse American consumers.
"We have witnessed this very modernized set up of a Kava Bar. It has redefined the kava bar as we know it in Fiji. It is designed to target the American customers and its expanding market. Even more surprising was that the owner, Mr Tyler Blythe said 90 percent of his customers were Russians who were interested in the serene atmosphere and more importantly the soothing effect of kava drinks," he said.
Mr Waibuta said that "to our amazement when walking in to meet the owner we noted the bar was already half full with customers drinking the various kinds of Kava beverages served."
Mr Blythe who is the head of the American Kava Association said that all Kava entering the United States will need to be cleared by the Food & Drugs Administration (FDA), analyzed of its chemical compositions, especially the Kavalactone level, to ensure that products served to the customers are safe for consumption and meet customer satisfaction.
See more at:
http://www.agriculture.gov.fj/index.php/newsroom/press-releases?id=392
and
http://www.fbc.com.fj/fiji/33534/kava-exports-expected-to-earn-fiji-32m-#sthash.XhJfZCxA.dpuf
and
http://fijisun.com.fj/2015/10/02/us15-million-kava-potential-identified/