In The News! "Just Your Cup of Tea" UC Davis Aggie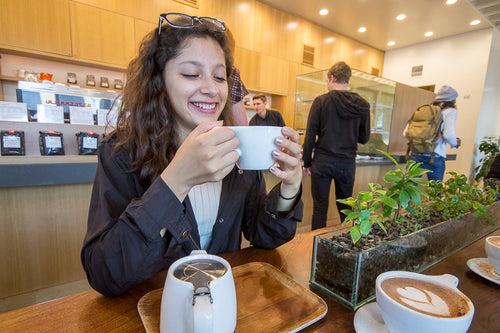 We're honored to be featured alongside Temple Coffee who are consistently ranked in the top 10 Coffee Roasters in the Country by CoffeeReview.com
http://www.coffeereview.com/top-30-coffees-2016/
From the Article:
Root of Happiness Kava Bar, another shop in Davis that serves an unconventional form of tea, bases its entire menu on a particular kind of "tea" made from steeping kava root in water. Ava Taesali, assistant manager of the bar, explained the intricacies of kava and its benefits as a tea.
"The kava plant comes from the South Pacific Islands, such as Hawaii, Fiji and Samoa, and has a lot of natural anti-anxiety and relaxation properties to help soothe the brain and muscles," Taesali said. "There's a lot of benefits to drinking kava but mainly it is just going to make you feel really happy and good without any fogginess in the head." 
Pacific island cultures have been consuming kava for over 3,000 years because of its positive effect on the mind and spirit. After drinking kava, people can expect to instantly feel relaxed not only in the body but also in the mind, as well as ready to socialize with anyone they meet.
Whether students are looking to relax after a long day of classes or simply change up their daily routine, Temple and Root of Happiness are leaders in providing nontoxic, exotic and sustainably grown teas to help students achieve this. 
Written by: Gillian Allen — features@theaggie.org