Polynesian Gold™ Brand Kava Extracts - Feel like Hawaiian Kava, only 4 times stronger!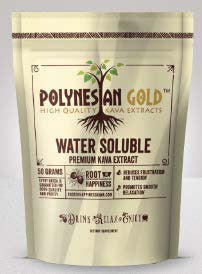 We've always taken pride in our Polynesian Gold™ Brand of Kava extracts but recent research proves what we've already known all along, they're the best in the world!
A recent study published in the Journal of Food Science Technology (DOI: 10.1007/s13197-013-1047-2) co-authored by Wang and Bidderbender, explored the chemotype of kava beverages prepared using arguably the most desirable kava variety in the world, the famous Hawaiian Mahakea variety.  Mahakea is highly desirable due to its potency and beautiful noble chemotype of either 426 or 462, it is considered by many to be the best variety of Kava available anywhere.
When the authors prepared a beverage from Mahkea roots acquired from Waimanalo Research Farm on Oahu, University of Hawaii, under laboratory settings, using 1:3 ratio of water to root in a blender, they found that the resulting beverage had a chemotype of 245.  "...The chemotypes of the first three kavalactones in the Mahakea rhizomes beverages were 245."  Thats right folks, when you prepare a kava beverage, the chemotype changes due to the varying degrees of solubility of the different lactones.  Perhaps you don't really like a 426 chemotype, perhaps you like the 245 chemotype that it turns into after you prepare a beverage from it!
We're proud to report that our current batch of Polynesian Gold™ Water Soluble Extract boasts 30% Kavalactones, is completely water soluble, and matches the desirable 245 chemotype of a kava beverage produced under laboratory conditions using high quality Hawaiian Mahakea variety Kava!  It just doesn't get any better than that.  Actually it does, Polynesian Gold™ Water Soluble Kava Extract is 3-4 times the potency of commercially available Mahakea root and is a fraction of the cost per serving.
Our Polynesian Gold™ 30% Water Soluble Extract is processed in a facility that is:
FDA GMP Certified and Audited
ISO 9001 Certified for Quality Management
ISO 14001 Certified for Environmental Management
ISO 22000 Certified for Food Safety Management
Kosher Certified
Halal Certified
 Bula!
Citation:
Journal of Food Science and Technology, 2015, Volume 52, Number 2, Page 1164 Jun Wang, Weiyue Qu, Harry C. Bittenbender, Qing X. Li
Tyler Blythe