10 Reasons to Visit a Kava Lounge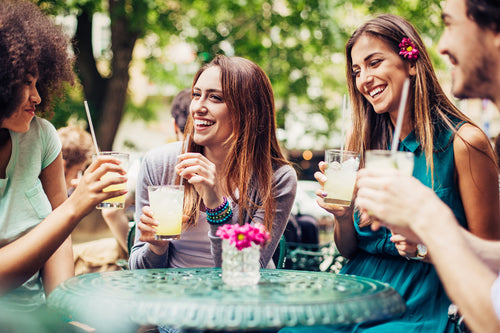 Kava lounges and bars are popping up across the United States and they are very popular. The vibe in a kava lounge is relaxed and welcoming. When you enter a kava lounge, you instantly realize this is a positive atmosphere, much different than that of night clubs and sports bars.
Kava lounges are quickly becoming the replacement bar for people to visit, relax and meet new people. Often at a kava lounge or bar, you will find yourself striking up conversations with strangers. But by the end of the evening, you have become friends.
Making new friends is just one of the awesome benefits of visiting a kava lounge. Keep reading to learn 10 more.
Drink Kava
One of the most obvious reasons is to drink kava. The staff at a kava lounge have perfected the process of making kava tea for your enjoyment. They know the different blends that offer different effects. Depending on how relaxed you want to be, they know how to mix your tea.
Kava is not like alcohol. With kava, you remain mental aware, yet the rest of your body feels relaxed and calm. It also makes you feel like socializing.
Socialize
Meeting new people at a kava bar is easy. Everyone there is interested in having meaningful conversations while also enjoying the occasional musical performance.
Here you can meet others like you. Drinking kava can help break the ice among lounge visitors, but it does not have the negative effects of alcohol. Instead, you can mingle with others without the fear of an altered state of mind.
You can enjoy a relaxation that mellows you.
Legal Consumption
Kava is legal for consumption and it has been used for centuries to help calm the body while opening the mind. It is an alternative, wholistic herbal remedy that helps you calm down and ease tensions throughout your body.
Kava is safe to use and while once it was banned, researchers learned the ban was based on incorrect information. The ban has since been lifted.
Entertainment
Kava bars offer many sources of entertainment. For starters, they are equipped with computer outlets, so you can plug in your devices and stay connected to the rest of the world. They provide Wi-Fi for those who prefer to use wireless connections.
Some kava lounges show movies, peaceful movies, to visitors. Other lounges host music concerts. The music you hear in a kava lounge will support the relaxing and calming atmosphere. It is unlikely you will hear headbanging music in an environment producing serenity.
Showcase Your Talents
Are you an artist? Maybe you have written poetry and want to share your work. Maybe you are a musician and looking for a place to showcase your talents. Or, maybe you are seeking a place for your artwork to shine.
Kava lounges often provide opportunities for local talents to showcase their work. If you are looking for places to gain experience, try a kava lounge near you to see if they have the availability for you to get on stage.
Specialty Drinks
Kava bars don't just serve kava. They have other teas and coffees from around the world for you to sample. While kava may be the main staple, there are many varieties of other natural drinks available.
In addition, kava lounges offer special mixtures that use kava as just one ingredient. Their signature kava drink recipes are some of the most delicious you will taste anywhere. Some require organic fruits like mango, while others require Chai, lemon and honey.
For those who do not like kava, there are traditional coffees and teas available.
Food
Kava lounges offer food, too. When drinking kava, you may not feel hungry at all. Because you are feeling so good physically and mentally, eating is not always the main reason to visit a kava bar.
But if you do get hungry, kava lounges provide great natural treats for customers. Your food options will vary from day to day, but you can count on them being organic, vegetarian and gluten free.
Kava Drinkware
It is worth a trip to a kava lounge just to drink from the kava bowl. Kava bowls have just as much history as kava itself. The wooden bowl holds the kava mixture and it is passed around in communal form to all who are present.
You can get your own kava drinkware in many kava lounges to take home with you. You can find several types of kava drinkware for sale, so you can enjoy kava in your home as well as in the lounge.
Trusted Suppliers
Kava lounges are owned and run by trusted suppliers of kava and all other products. They work with the best resources to supply you with the highest quality kava, teas, coffees and more.
Buying from trusted suppliers is key to enjoying the positive effects of kava. 
Kava to Go
Once you have experienced kava at a kava lounge, you will most likely want to take some with you for later use, maybe after a grueling day at work. You can purchase kava to go at a kava lounge.
If you don't have time to make your own kava mixture, kava lounges will have alternative versions of kava available for purchase. These can include kava supplements and already mixed tinctures. Kava candy is a big hit among users, as well as instant kava.
With instant kava you just mix the recommended amount with your favorite drink and enjoy. It is just that simple.
Visiting a kava lounge should be added to your list of things to do in the next week or so. Instead of going to a club this weekend and filling up on beer, visit a kava lounge instead. Enjoy the kava drinks they offer. You will leave the kava lounge feeling good will, relaxed and in a mood to be social.